ERigene works daily with a network of technology, industry and agricultural partners binding together a solid value chain for the biogas industry
Since 2008, ERigene has worked to develop an innovative concept of "on farm" biogas plants. Project MEXA ("farm scale dry biogas"), was conducted in close cooperation with a network of recognized actors in the world of scientific research, technology, agronomy and farming representatives.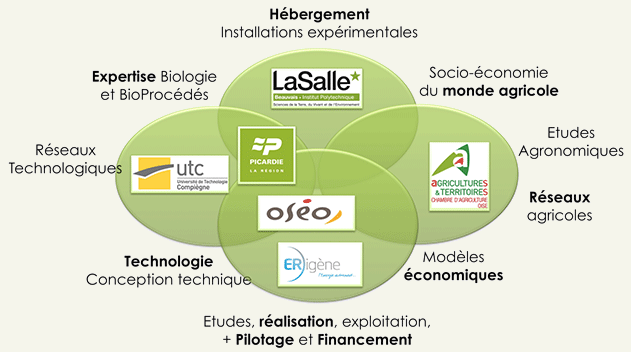 Compiegne Technology University (UTC)
UTC was established in 1972 as an experimental technology university. The 350 academic staff members welcome 4200 engineering, master and doctorate students.
With values, objectives and culture based on efficiency and responsibility, UTC anticipates on the upcoming needs of industry in terms of research, which develops the employability of UTC students.
The TIMR team (Integrated Transforms of Renewable Materials) together with LaSalle Institute, has initiated in 2008 a joint competence center on "biodegradation of organic materials", with funding from the Regional Council within the framework of the "Industrial and Agro-Resources World Competitiveness Cluster".

www.utc.fr
---
LaSalle Beauvais Polytechnic Institute.
The institute, a leading engineering school, trains 1370 students in three majors:
Agriculture, agro business and bioresources,
Food and health,
Earth and environmental sciences.
The research laboratories specialize in:
promotion of agricultural resources (World Competitiveness Cluster),
healthy eating (Research on Cancer, obesity),
animal behavior.
Since September 2008, the Science and Agro-industrial Technique team, headed by Thierry RIBEIRO, (PhD in Microbiology and Biochemistry) focused its efforts on sustainability and life cycle of organic matter.

www.lasalle-beauvais.fr
---
The Development Office of Oise Agriculture Council
This department supports farmers in four main areas:
references and tools,
support for agricultural public,
expertise and education,
Communication and entertainment.

www.chambres-agriculture-picardie.fr
---
Since 2009, the MEXA project has been funded by ERigene with public financial support by:
Oseo Innovation:
(financing and support for technology innovation).
OSEO promotes and supports risk-taking in technology innovation towards industrial development and growth, contributes to technology transfers.
OSEO provides funding during the high risk phases of early development, where private funding cannot cover or require risk-sharing. Their action covers intangible investments related to research and development, adaptation or products design, processes and new services, technological breakthroughs, strategic innovations, marketing techniques, new uses…

www.oseo.fr
---
Higher Education and Research Department of the Picardy Regional Council
The Department of higher education, Research and Innovation funds projects from concept to completion pursuing four objectives:
To organize exchange and synergies in the areas of expertise of regional laboratories and where know-how can be enriched through a professional network
To support leading regional projects at the international level
To help research and innovation and encourage researchers to apply on European and international programs
To promote the image of Picardy Region in European and international cooperations.

www.cr-picardie.fr/
---
Beyond this first circle, committed partnerships with actors in the forefront of research, industry, gas and energy, in other regions.